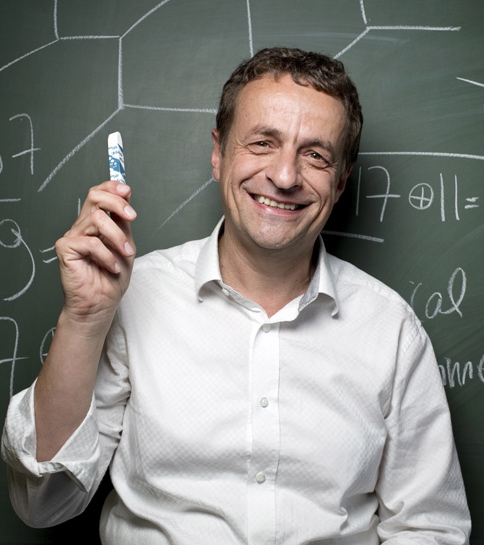 Bernd Sturmfels
Professor of Mathematics,
Statistics and Computer Science

925 Evans Hall
Dept. of Mathematics
University of California
Berkeley, CA 94720




Phone messages: 510 642 6550


Research Interests:
Algebraic Geometry, Combinatorics, Commutative Algebra, Algebraic Statistics, Convex Optimization, Computational Biology


Office Hours:
Mondays 8-9 and Thursdays 10-11:30


My daughter Nina is about to graduate in Fashion Design from the California College of the Arts. She and her fellow seniors present their collections in the annual CCA fashion show on Friday, May 15. This very cool SF event, with professional runway and all, is public.

Good news from the 2015 job market! Five former PhD students accepted tenure-track positions: Melody Chan joins Brown U, Angelica Cueto joins Ohio State, Ralph Morrison joins Williams College (after a year in Stockholm), Ngoc Tran joins UT Austin (after a year in Bonn), and Caroline Uhler joins MIT (in January 2016). Three others accepted postdoctoral positions: Felipe Rincon joins U of Oslo, Jose Rodriguez joins U Chicago, and Zvi Rosen joins U Penn (after a semester at Penn State).

I was awarded an Einstein Visiting Fellowship, to build up a research group at TU Berlin. We start in May 2015 with a kickoff workshop.

Interview in Specimen Magazine
Click here for an interview that appeared in July 2014.

Introduction to Tropical Geometry
Diane Maclagan and I wrote a textbook on tropical geometry, to be published in May 2015 by the American Mathematical Society.

My wife Hyungsook Kim published this excellent historic novel, set in 19th century Korea.

There are many wonderful seminars in the Berkeley Mathematics Department. In the Spring of 2015, we ran a Computational Algebraic Geometry Seminar every Monday at 10am.

I helped to start the SIAM Activity Group on Algebraic Geometry. Please join us. The next conference of this group will take place in August 2015 at Deajeon, Korea.