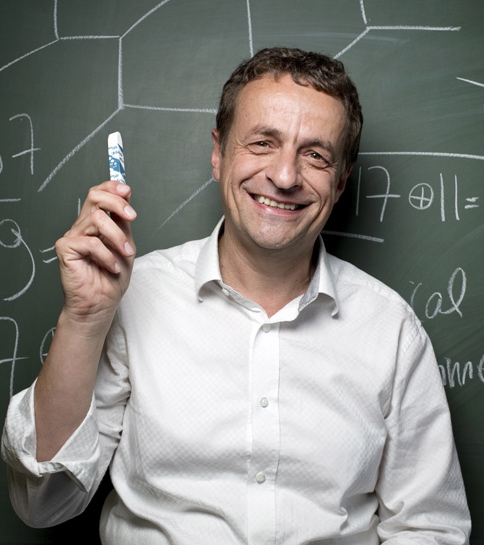 Bernd Sturmfels
Professor of Mathematics,
Statistics and Computer Science
University of California at Berkeley




Director of the Max Planck Institute
for Mathematics in the Sciences
Leipzig, Germany





Research Interests:
Algebraic Geometry, Combinatorics, Commutative Algebra, Algebraic Statistics, Convex Optimization, Computational Biology


Office Hours:
By appointment.



This flattering article appeared in the October 2018 newsletter of the European Women in Mathematics (EWM).

My daughter Nina is a Fashion Designer. She works for Athleta. Click here for a portfolio. My son Pascal is a PhD student in Computer Science. You can find him on Google Scholar.

I serve as the Editor-in-Chief of the SIAM Journal on Applied Algebra and Geometry (SIAGA). Please submit your very best work.

On June 29, 2015, I was awarded an honorary doctorate by the University of Frankfurt, Germany.

My bio-medical project with Miriam Barlow, Portia Mira and Juan Meza from UC Merced, and Devin Greene and Kristina Crona from American University, recevied a lot of press. Check out this article in the Scientific American.

Postdoc updates on two 2016 PhD students: Elina Robeva goes to MIT, and Hwangrae Lee goes to Auburn U. In 2015, five former students got tenure-track positions: Melody Chan joined Brown U, Angelica Cueto joined Ohio State, Ralph Morrison joined Williams College, Ngoc Tran joined UT Austin, and Caroline Uhler joined MIT. Three others accepted postdoctoral positions: Felipe Rincon joined U of Oslo, Jose Rodriguez joined U Chicago, and Zvi Rosen joined U Penn.

I was awarded an Einstein Visiting Fellowship, to build up a research group at TU Berlin. We started in May 2015 with a kickoff workshop.

Interview in Specimen Magazine
Click here for an interview that appeared in July 2014.

Introduction to Tropical Geometry
Diane Maclagan and I wrote this textbook. It was published in 2015 by the American Mathematical Society.

My wife Hyungsook Kim published this excellent historic novel, set in 19th century Korea.