The flow chart on the right is a clickable map. Position the mouse over any line of text and click. This will direct you to that topic.

When you click on line of text, this will send you to the new page with that topic outlined in red. The flow map on each of the other pages are also clickable.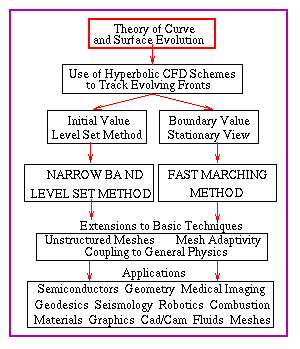 Click on navigable flow chart to go to topic flow.
The flow chart on the left gives the evolution modern techniques for interface propagation.
The main ideas are in the first two boxes: these lead to both Level Set Methods and Fast Marching Methods. The most natural place to start is in the top in red.