James Walsh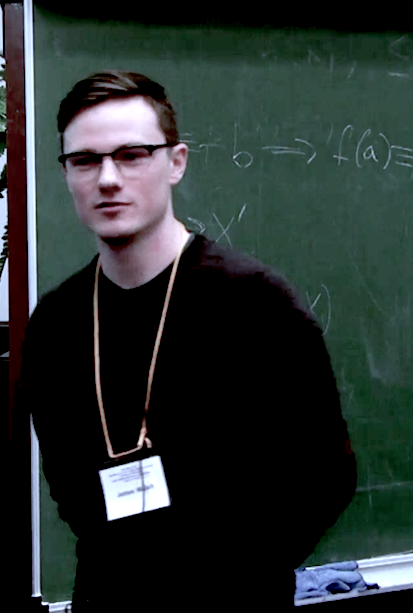 Office: 1043 Evans Hall
Email: walsh@math.berkeley.edu



I am a student in the Group in Logic at UC Berkeley. I have an Sc.B. from Brown University. My research is in mathematical logic and in the philosophy of logic and mathematics. My research interests include proof theory, absolute generality, theories of truth, logicism, and the foundations of generative grammar.
Papers & Preprints
Articulating absolute generality
In preparation
Artificial languages and the determinacy of mathematical concepts
In preparation
Reflection ranks and ordinal analysis, with Fedor Pakhomov
Under review [arXiv]
Epistemic aspects of consistency proofs
Philosophical Studies, revise & resubmit
On the inevitability of the consistency operator, with Antonio Montalbán
Journal of Symbolic Logic, forthcoming [arXiv]
Talks
Hierarchies of proof-theoretic strength
Logic and Foundations of Mathematics Seminar, Stanford University, upcoming
Artificial languages and the determinacy of mathematical concepts
APA Central Division Meeting, Denver, CO, upcoming
Articulating absolute generality
Graduate Research Colloquium, University of California, Berkeley, December, 2018
On the inevitability of the consistency operator
Logic Seminar, University of Pennsylvania, November, 2018
Reflection ranks and ordinal analysis
Computational Logic Seminar, City University of New York, November, 2018
Epistemic aspects of consistency proofs
Midwest Philosophy of Mathematics Workshop, University of Notre Dame, October, 2018
Reflection ranks and ordinal analysis
ASL North American Meeting, Western Illinois University, May, 2018
On the inevitability of the consistency operator
Proof Theory Seminar, Steklov Institute of Mathematics, March, 2018
Hierarchies of proof-theoretic strength
Operations, Sets, and Types III, University of Bern, March, 2018
Hierarchies of proof-theoretic strength
South-Eastern Logic Symposium, University of Florida, February, 2018
Epistemic aspects of consistency proofs
Workshop on the Philosophy of Mathematical Reasoning, Stanford University, February, 2018
Epistemic aspects of consistency proofs
APA Eastern Division Meeting, Savannah, GA, January, 2018
On the inevitability of the consistency operator
International Workshop on Proof Theory, Modal Logic, and Reflection Principles, Steklov Institute of Mathematics, October, 2017
On the inevitability of the consistency operator
ASL Logic Colloquium, Stockholm University, August, 2017
Epistemic aspects of consistency proofs
CSLI Workshop on Logic, Rationality, and Intelligent Interaction, Stanford University, May, 2016